Nurse'n'Slash
Nurse'N'Slash
In a world, where exploding Nurses try to kill their patients...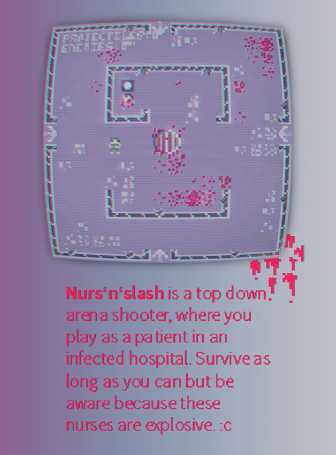 What to do?
Patient Zero tries to resist against the evil exploding Nurses, so he arms himself and starts to fight them.
Controls:
S -> Shoot left
F -> Shoot right
E -> Shoot up
D -> Shoot down
Arrowkeys -> Movement
What's the point of the game?
It's a prototype we did in a Game Jam, we had 3 days to create a one screen only game in a team with one Programmer and one Artist. We could choose the topic from a topic generator on twitter.
What is our topic?
Lofi Top-down Arena Shooter with exploding nurses... or something like that
Is that all you got?
Ahh no. I (Programmer) started to learn programming like 4 months ago. Lua is the first language I learned besides from Russian Kappa.
Want to have more informations?
Visit this website: https://www.lexaloffle.com/bbs/?tid=30499
What else?
We would be happy if you gave us some feedback, on the code/gameplay/art/music...
And tip if you liked it and want to support us!
Install instructions
You can play it on every browser or with Pico-8